---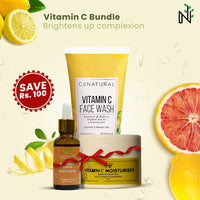 Sale
What does this Bundle include?
1. Vitamin C Face wash
.
Vitamin C face wash brightens and revitalizes the skin

Soothes and reduces irritation

Our vitamin C face wash removes impurities while quenching skin with essential daily vitamins

Luscious, SLS-Free base
Dissolves dirt, oil, and make-up without disturbing the skin's delicate pH balance or stripping it of its natural oils
2. 
Vitamin C Moisturzier.
Contains active vitamin C that helps to repair skin damage caused due to environmental exposure. It neutralizes free radicals that cause damage to the skin cell structure. It supports skin hydration skin and helps in restoring the skin's lipid barrier.

1. Formulated to help moisturize, nourish, and protect dull, tired, aging skin.
2. Nourishes skin from the inside that helps to brighten the complexion.
3. Neutralizes skin damage that helps to avoid signs of skin aging.
4. Gives a soft, velvety feel to the skin, helping to keep dark spots in check.
5. Helps to form a protective barrier and improve skin's suppleness.
3. Vitamin C Serum
 Serum.
Vitamin C serum helps to hydrate the skin, making it look bright, fresh, and smooth. The serum helps to revitalize aging skin, treats acne and pores, and helps to repair skin damaged by sun, burns, cuts, or other injuries.
Note: For customization, reach out at our WhatsApp number 0321-8006808.