---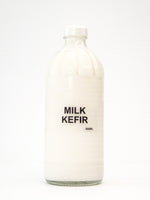 Quantity 500 ML
This is a ready-to-drink Milk Kefir.
WHAT IS KEFIR?
Kefir or kephir is a fermented milk drink similar to a thin yogurt that is made from kefir grains. These grains are left in a liquid such as milk to ferment. Fermentation of the lactose yields a sour, carbonated, with a consistency and taste similar to drinkable yogurt. Kefir is a fermented beverage filled with probiotics and other healthy ingredients. Kefir helps boost your immune system, improves your IBS, Cures indigestion, helps regulate your cholesterol, and has numerous other beneficial effects. 
The drink originated in the North Caucasus (Russia). The cauliflower-like grains of Kefir culture were thought of as having amazing healing powers as far back as the 18th century. 
HOW DOES IT LOOK & TASTE LIKE?
The taste of finished kefir varies greatly based on the type of milk used and the length of time it is cultured. A consistency similar to buttermilk is standard, with it getting thicker in the winter, after being refrigerated, or when more cream (or higher fat milk) is added. It is not solid like yogurt.
It is sour and tangy in taste.
WHAT IS THE BEST TIME TO DRINK KEFIR?
Technically, you can take kefir any time. However, we generally recommend that you take it first thing in the morning because it's an energy booster.