---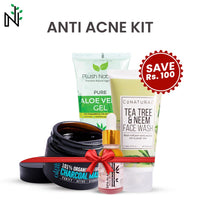 Sale
Introducing our revolutionary Anti Acne Kit - the ultimate solution to all your acne woes! This carefully curated kit is specially designed to combat acne and blemishes, leaving you with clear and flawless skin. Say goodbye to pesky pimples and hello to radiantly smooth skin!
WHY OUR KIT IS THE BEST?
Our kit includes four essential items that work together to tackle acne from all angles. Our Anti Acne Serum is packed with powerful ingredients that penetrate deep into the skin to unclog pores, reduce inflammation, and promote healing. Say goodbye to painful breakouts and hello to clear, beautiful skin.
Our Neem and Tea Tree Face Wash is the perfect complement to our serum. Made with natural ingredients, this gentle cleanser effectively removes dirt, oil, and impurities from the skin, while also fighting acne-causing bacteria. It leaves your skin feeling refreshed, clean, and smooth.
Our Aloe Vera Gel is a soothing and hydrating moisturizer that calms irritated skin and promotes healing. This lightweight gel is perfect for those with acne-prone skin, as it won't clog pores or cause breakouts. It's the perfect way to keep your skin moisturized and looking healthy.
Last but not least, our Charcoal Mask is the ultimate weapon in your acne-fighting arsenal. This deep-cleansing mask is made with activated charcoal and other natural ingredients that draw out impurities, unclog pores, and leave your skin feeling refreshed and rejuvenated.
Don't let acne hold you back any longer. Our Anti Acne Kit is the perfect solution to help you achieve clear, beautiful skin. Try it today and see the difference for yourself!
WHO CAN USE IT?
Gender - Unisex product
DISCLAIMER
PATCH TEST is advisable before adding a new product to your routine. Apply the product to the neck area and observe for the next 24 hours. Make sure you apply a very small quantity.
If there's no reaction, you can apply the product to your Hair. If the skin is sensitive, continue the test for 7 days. This helps ensure you are not allergic to any ingredient. If irritation occurs, please discontinue the product and consult a dermatologist.
(Tried & Tested on Family)