---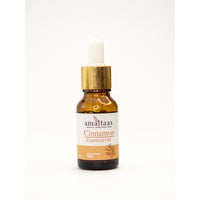 Quantity:  15 ML
In aromatherapy, cinnamon oil is used to reduce feelings of depression, faintness, and exhaustion. It is also used to strengthen libido and immunity. Its anti-rheumatic properties help to reduce joint and muscle pain. It is also used in aromatherapy to reduce symptoms of colds and flu.
Benefits of Cinnamon Oil:
1. Combats hard-to-treat bacterial organisms
2. Supports oral health.
3. Anecdotal reports and traditional practices indicate that a mask made of cinnamon, olive oil, and honey may be effective at promoting the growth and thickening of hair.