---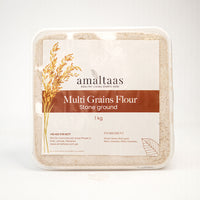 1 Kg
Blend Of 12 Grains
Wheat - Barley - Black gram - Maze - Soybeans - Millet - Flaxseeds

BENEFITS:
1. Packed with nutrients, protein, fiber, and B vitamins.
2. Excellent for Digestive System and helps in a healthy Metabolism.
3. Helps in aiding weight loss, as most grains are gluten-free and healthy.
4. Lowers inflammation of joints and helps reduce body heat.
5. Reduces Heart Disease and Type 2 Diabetes.
6. Gives long-lasting energy and increases strength and vitality.