---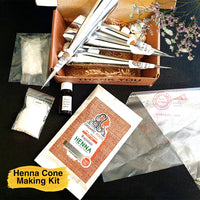 Delivering all across Pakistan.
Organic Roots' Professional Henna Cone Making Kit is an easy-to-use cone-making kit for aspiring henna artists, creative housewives, & young girls to practice & discover their hidden creative abilities.
What is inside the Box?
🌿Five-time sift Rajasthani Henna Powder
🌿Combination of 4 therapeutic Essential Oils
🌿 Sugar
🌿Gloves
🌿Carrot Bag
🌿4 Rolled Cones with perfect tip.
🌿0.38mm pins
🌿Rubber band
🌿 Cone Making Guide
What will You Need To add from your kitchen?
💧Bottled Or Distilled Water
🍋 Lemon juice
☕ Black Tea (optional)
How to Make it?
1-Add mentioned quantity of water and lemon juice into the carrot bag.
2-Add Henna Powder, Essential Oil, and sugar into it.
3-Mix it well inside the carrot bag.
Seal the bag and keep it for dye release for 12 hours.
4-Cut the tip of the carrot bag.
Fill in the cones.
5-Seal and secure henna cones with squash tape.
6-Your professional henna cone is ready with the perfect consistency for ornamental designs and body art.
1 Kit can make 4 cones of 25g.