---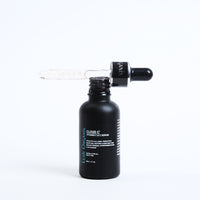 Every day your skin is attacked by oxidative stress. Fight back with this antioxidant mega boost: a powerful vitamin C and vitamin E facial serum. These skin care ingredients are effective alone, but together they're extraordinary. The highly potent antioxidant, vitamin E, teams up with pure vitamin C in an age-defying duo that's better together. Two additional sources of vitamin C deliver even more potency. Add this benefit-packed serum to your daily routine to see skin that's brighter, firmer, and glowing with good health.
How to use:
Start with clean skin. For best results, spritz on Lush Organix Glow Juice Facial Toner. While still damp, apply a pea-sized amount of Cloud C Vitamin C & E Serum to the face and neck area. Allow to absorb into the skin and get glowy & radiant skin instantly.
Ingredients:
Aqua/Water/Eau, Pure vitamin C (ascorbic acid), Amla fruit extract (Phyllanthus Emblica extract), vitamin C derivative (tetradecyl ascorbate), Vitamin E, Proprietary navy bean extract, Ferulic Acid, Panthenol, Sodium Hyaluronate.