---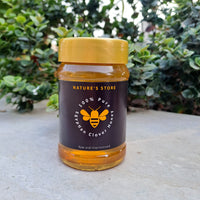 250 Grams

100% Pure Premium Organic Multiflower Honey extracted in KPK. 100% pure raw Clover Flower Honey is unfiltered & unpasteurized
Clover honey is a thick, sweet syrup made by honeybees that collect the nectar of clover plants. It's mild in taste and light in color, making it a popular choice among honey enthusiasts.
Clover Honey benefits:

Clover honey is high in flavanols, antioxidants that can help to regulate your blood pressure, which in turn helps to protect your heart health. Flavanol content also leads to better blood flow, as well as transportation of oxygen and nutrients throughout your body.

Clover and other types of honey have antiviral and antibacterial effects.

In a rat study, clover honey extract reversed liver damage caused by free radicals, likely due to the extract's antioxidant capacity.

Clover honey is particularly high in anti-inflammatory flavanol and phenolic acid antioxidants.