---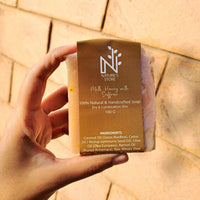 WHY OUR SOAPS ARE THE BEST?
PRODUCT DETAILS
1. Weight:
100- 120 Grams.
2. Ingredients:
Milk, Sweet Apricot Oil, Coconut Oil, Castor Oil, Olive Oil, Raw African Shea Butter, Honey, Saffron, Lye, Lavender Essential Oil, Geranium Essential Oil, Rosemary Essential Oil
3. Scent:
Neutral.
4. Texture:
 Creamy, Foamy, and Bubbly
WHO CAN USE IT?
Skin Type -
 Dry to Combination
Age -

 

For 15+
Gender -

 

Unisex product
HOW TO USE IT?
Wet your hands and gently rub the soap in your palms to form a lather. Now apply it to your skin and enjoy the real goodness of our 100% Natural soap.
WHY SHOULD YOU USE  OUR MILK SOAP?
Milk is a natural moisturizer loaded with proteins, minerals, vitamins, nutrients, and calcium, which leaves the skin smooth and velvety. Excellent for people with psoriasis, eczema, and acne.
DISCLAIMER
PATCH TEST is advisable before adding a new product to your routine. Apply the product to your inner elbow/jawline and observe for the next 24 hours. If there's no reaction, you can apply the product to your face. If the skin is sensitive, continue the test for 7 days. This helps ensure you are not allergic to any ingredient. If irritation occurs, please discontinue the product and consult a dermatologist.
(Tried & Tested on Family)