---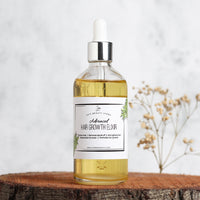 Best hair care product with multiple benefits:
– Thickens hair
– Helps balance the scalp
– Removes loose dandruff flakiness
– Strengthens hair
– Moisturizes the scalp
– Promotes new hair growth
50 ml
Directions: Part your hair and apply on the scalp, massage gently. Apply to stands of the hair to
control hair frizz. Leave for few hours or overnight, wash off with shampoo.
Ingredients: Almond, coconut, Rosemary, Nigella sativa, Tea Tree Oil, Fenugreek Seeds & herbs