---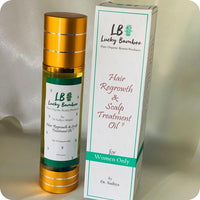 100 ML
How to use
Take a little amount of oil and gently
apply by the use of cotton to your roots and scalp. Avoid scrubbing just gently apply in all roots and cover with a dry towel overnight and wash in the morning.
You can also apply it in the morning before applying cover your head with a hot towel for 15 to 20 minutes then apply oil gently into roots and avoid scrubbing. Wash after 3 to 4 hours.
For best results apply 3 times a week and for regrowth use every day for 2 weeks.

Ingredients

Almond oil
Peppermint oil
Lavender oil
Cedarwood oil
Castor oil
and other ayurvedic herbs


LB Hair oil is made with 💯% natural ingredients and pure essential oils. It is chemical-free and non-toxic.
It is a solution for all Genetic and Medical Scalp Issues. You will see a visible difference after the first wash.


This Magical hair oil formula will not only re-grow your hair but will also help other scalp issues.