---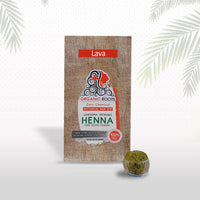 100 g
Lava Henna is the most popular and triple-sifted tattoo grade. Best for all hair types and for making cones too. Due to these qualities, it is included in our premium quality natural hair coloring kit too.
What is henna leaf powder?
Henna leaves powder stain red-orange. It is an amazing natural conditioner, makes hair healthy, voluminous, strong, and builds a protective layer on hair strands that safeguards from damage by heat and sunlight; it cures dandruff and itchy scalp too.
Benefits: It makes hair
voluminous
 healthier, shinier & glossy,
 Cures dandruff  Condition hair
  Promote hair growth
  Balances pH and oil production
 Strengthen hair and curbs hair loss
Safe For :
Who are allergic to the synthetic dye
 Chemical processed hair/damaged hair
 All ages
 All gender
Pregnant mothers
Pre-mature white
Beard
Properties :
 Ammonia free
  Peroxide free
  ppd free
  Metallic salt-free
  Preservatives free
  Cruelty-free
vegan