---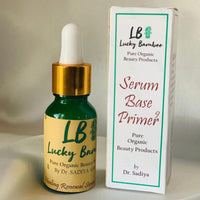 15 ML
Water-based Serum
One of the unique serums of its kind which caters to various skin issues, like fine lines, wrinkles, hyperpigmentation, melasma, acne, acne scars, crow feet. Reduces acne spots, gives glow to your skin.
Delays aging signs.
It is the best primer as well to use before doing makeup.
Now you have not to buy different types of serums for different skin issues it is truly All in one

100% organic
No chemicals added
Preservatives free

Ingredients
Vitamin C
Vitamin E
Rosewater
Skin renewal serum
Anti-acne serum
Gold Serum

All serums are blends of different beneficial pure essential oils.
It is for all skin types and for all ages.
Both men and women & children (above 11 years) use it.

How to use
Wash and dry your face.
Shake well the bottle of serum before use
Add 3 to 4 drops of serum on the palm of your hand and pat gently on your face.
Use it as a primer before makeup or you can use it before applying day cream or night cream.