---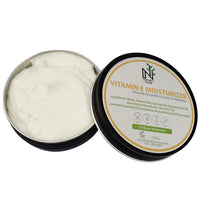 100% NATURAL AND ORGANIC INGREDIENTS 
This rich, non-greasy moisturizer protects, nourishes, and locks in moisture for long-lasting hydration. Leaves skin feeling fresh, silky-soft, and looking more radiant.
Ingredients:
Ingredients: Water, Olivem1000, Coconut Oil, Apricot Kernel Oil, Raw African Shea Butter, Glycerin, Vitamin E Oil, Lavender Essential Oil (Lavandula Angustifolia) and Preservative.
Ingredients Breakdown:
Olivem1000 - Organic
Coconut Oil - Organic 
Apricot Kernel Oil - Organic
Raw African Shea Butter - Organic
Vitamine E Oil, Lavender Essential Oil & Preservative - Natural
What to expect?
 Hydrating and moisturizing the skin boosts the skin's ability to repair itself, produce enough collagen, stay tight, and vibrant, and give you a more youthful and smooth look. 
* Moisturizing helps to slow the signs of aging. Delays wrinkle and fine lines. 
* Soothes skin and prevents dry and itchy patches. 
* Improves the uneven skin tone. 
* Makes the skin smooth and soft. 
* It may sound counterintuitive, but you need to actually keep your face quite moisturized to keep it acne-free and prevent it from getting too oily. Thus, moisturizing will also keep your skin away from breaking out.