---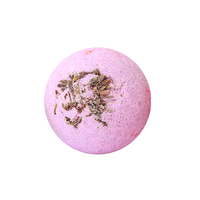 Did someone mention a spa? Piece of pie is the perfect bath bomb for those who suffer from stress, anxiety, depression & sleep problems.
Dip in and unwind in a fizzing paradise of Lavender scents and superior-quality ingredients to soak your stress away.
WHY OUR BATH BOMBS ARE THE BEST?
PRODUCT DETAILS
1. Weight:
60 g
2. Ingredients:
Baking Soda, Citric Acid, Kaolin Clay, Cocoa Butter, Almond Oil, Coconut Oil & Lavender Oil.
3. Scent:
Minty and Floral

4. Texture:
 Lightweight
Foamy and Bubbly. 
5. Shelf life

12 Months
WHO CAN USE IT?
Gender - Unisex product (Kids and Adults)
(Not for Infants or Toddlers)
HOW TO USE IT?

Unwrap the bath bomb, and drop it in your tub for some fizzy fun. As the bath bomb soaks in the water, it will begin to break apart. If you are eager to get started, you don't need to wait until the bath bomb dissolves before jumping into the tub. Once you're in, let the delightful scents and our specially formulated blend of essential oils take you away!
DISCLAIMER
PATCH TEST is advisable before adding a new product to your routine. Apply the product to the neck area and observe for the next 24 hours. Make sure you apply a very small quantity.
If there's no reaction, you can apply the product to your Hair. If the skin is sensitive, continue the test for 7 days. This helps ensure you are not allergic to any ingredient. If irritation occurs, please discontinue the product and consult a dermatologist.
(Tried & Tested on Family)