---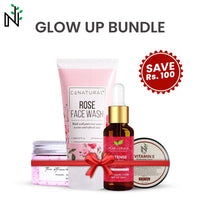 Sale
Introducing our Radiant Skin Glow Kit - the ultimate solution for achieving a healthy, glowing complexion. This specially curated kit is designed to give your skin the nourishment and care it needs to look its best. Say goodbye to dull, tired-looking skin and hello to a radiant, glowing complexion!
WHY OUR KIT IS THE BEST?
Our kit includes four essential items that work together to promote a healthy, radiant complexion. Our Rose Face Wash is a gentle, yet effective cleanser that removes dirt, impurities, and makeup, leaving your skin feeling refreshed and clean. It's infused with rose extracts that help to soothe and hydrate the skin, giving it a healthy glow.
Our Vitamin E Moisturizer is a lightweight yet deeply hydrating cream that helps to nourish and protect your skin. It's enriched with vitamin E, a powerful antioxidant that helps to protect your skin against environmental stressors while also promoting a more youthful-looking complexion.
Our Intense Glow Serum is a potent formula that's designed to give your skin an instant boost of radiance. Packed with natural ingredients like turmeric and licorice root extracts, this serum helps to brighten and even out your skin tone, leaving your skin looking radiant and glowing.
Our Strawberry Face Scrub is a gentle exfoliating scrub that helps to remove dead skin cells, unclog pores and promote a brighter, more even skin tone. It's enriched with strawberry extracts that help to nourish and hydrate your skin, leaving it looking soft, smooth, and glowing.
Achieving a healthy, radiant complexion has never been easier with our Radiant Skin Glow Kit. Try it today and see the difference for yourself! With these four essential products, you'll have everything you need to achieve a glowing, healthy complexion that you'll love showing off.
WHO CAN USE IT? 
Gender - Unisex product
DISCLAIMER
PATCH TEST is advisable before adding a new product to your routine. Apply the product to the neck area and observe for the next 24 hours. Make sure you apply a very small quantity.
If there's no reaction, you can apply the product to your Hair. If the skin is sensitive, continue the test for 7 days. This helps ensure you are not allergic to any ingredient. If irritation occurs, please discontinue the product and consult a dermatologist.
(Tried & Tested on Family)