---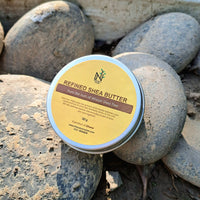 Shea Butter is fat that's been extracted from shea tree nuts. It's off-white or ivory-colored and has a creamy consistency that's easy to spread on your skin. Most shea butter comes from shea trees in West Africa.

High concentrations of fatty acids and vitamins make shea butter an ideal cosmetic ingredient for softening skin. Shea butter also has anti-inflammatory and healing properties. Using shea butter on your body, especially your face, can condition, tone, and soothe your skin.
WHY OUR SHEA BUTTER IS THE BEST?
* Imported from Ghana.
* It is rich, unrefined and 100% Pure.
Shea Butter Benefits
Moisturizing: The concentration of natural vitamins and fatty acids in shea makes it incredibly nourishing and moisturizing for the skin. It is often used to remedy dry skin and to help protect the skin's natural oils.
Reduces Inflammation: A 2010 study found that due to its cinnamic acid and other natural properties, shea butter was anti-inflammatory. One compound, in particular, lupeol cinnamate, was found to reduce skin inflammation and even potentially help avoid skin mutations. This also makes it beneficial for some people with acne.
Skin Smoothing: Shea aids in the skin's natural collagen production and contains oleic, stearic, palmitic, and linolenic acids that protect and nourish the skin to prevent drying. With long-term use, many people report skin softening and strengthening as well as wrinkle reduction.