---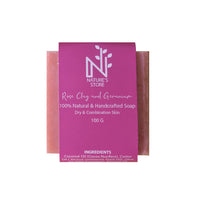 A luxuriant body soap infused with pure Geranium Essential Oil, Raw African Butter, and Pink Rose Clay to give your skin an amazing feel. 
Extra Virgin Coconut Oil in this soap is rich in fiber, vitamins, and minerals which will help to relieve dryness and remove dead skin cells. The antioxidant action of this cleanser helps in delaying signs of aging while giving soft, healthy, and glowing skin.
WHY OUR SOAPS ARE THE BEST?
We use A- grade Cold-pressed Oils, Raw Butters, Herbs, and Essential Oils.
We don't use artificial fragrances or chemicals at all.
This is a hand-made soap from the scratch.
We make super-fattening soaps so that it doesn't dry up your skin.
PRODUCT DETAILS
1. Weight:
100 Grams.
2. Ingredients:
Coconut Oil (Cocos Nucifera), Castor Oil ( Ricinus communis Seed Oil), Olive Oil (Olea Europaea), Almond Oil (Prunus Amygdalus Dulcis), French Rose Clay (Kaolinite), Glycerin, Geranium Essential Oil (Pelargonium graveolens), Raw African Shea Butter (Butyrospermum Parkii), Lye, and Aqua.
3. Scent:
Rose Geranium.
4. Texture:
 Creamy, Foamy, and Bubbly
WHO CAN USE IT?
Skin type -
 Dry to Combination. 
Age -

 

For 15+
Gender -

 

Unisex product
HOW TO USE IT?
Wet your hands and gently rub the soap in your palms to form a lather. Now apply it to your skin and enjoy the real goodness of our 100% Natural soap.
WHY SHOULD YOU USE ROSE GERANIUM & CLAY SOAP?
Gently cleanses, purifies the skin, and helps to treat uneven tone.

Exfoliates while giving a smooth and soft texture to the skin. 

Geranium oil has antibacterial, anti-fungal, and antiviral properties, which makes this soap ideal to treat a host of skin conditions. This cleanser's antioxidant action helps delay

 aging and damage to soft, healthy, and glowing skin.
 DISCLAIMER
PATCH TEST is advisable before adding a new product to your routine. Apply the product to your inner elbow/jawline and observe for the next 24 hours. If there's no reaction, you can apply the product to your face. If the skin is sensitive, continue the test for 7 days. This helps ensure you are not allergic to any ingredient. If irritation occurs, please discontinue the product and consult a dermatologist.

(Tried & Tested on Family)