---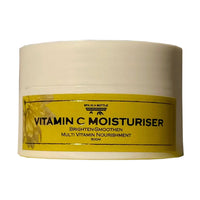 Contains active vitamin C that helps to repair skin damage caused due to environmental exposure. It neutralizes free radicals that cause damage to the skin cell structure. It supports skin hydration skin and helps in restoring skin's lipid barrier.
Formulated to help moisturize, nourish and protect dull, tired, aging skin.
Nourishes skin from inside that helps to brighten the complexion.
Neutralizes skin damage that helps to avoid signs of skin aging.
Gives a soft, vevety feel to skin, helping to keep dark spots in check.
Helps to form a protective barrier and improve skin's suppleness.
Reveal Brighter and Younger-Looking Skin by stimulating collagen production to improve appearance of fine lines, wrinkles, and age spots.
Improves Elasticity and Firmness, soothes sun-damaged skin, reduces dryness and irritation
Free of Harmful Ingredients such as parabens, sulfates, or phthalates