---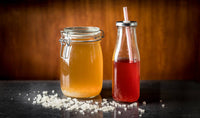 1000 ML Bottle
This is a Ready to drink bottle.
WHAT IS WATER KEFIR?
Water kefir is a fermented, carbonated beverage that is produced using water kefir grains.
Unlike Milk Kefir, which is made from cow, sheep, or goat milk, water kefir is made by combining sugar water with water kefir grains — a type of grain-like culture of bacteria and yeast.
Water Kefir Grains are live probiotics in the form of soft, jelly-like 'grains. When healthy and fed, these grains will continue to grow and multiply and produce an endless supply of water kefir. 
Use Water Kefir Grains to make naturally gut-healthy, bubbly water kefir at home! It's as easy as mixing sugar into the water - our Water Kefir Grains will do the rest. 
Don't worry, the sugar isn't for you. The grains will metabolize the sugar during the fermentation process and the final kefir water will be very low in sugar. 
WHY YOUR BODY NEEDS KEFIR?
1. Boosts Gut Health:
Water kefir is rich in probiotics. Probiotics are beneficial bacteria that can help support gut health. Studies show that probiotics can have far-reaching effects on health. In fact, they may benefit from everything from immunity to mental health, metabolism, and disease risk.
2. Builds Immunity:
Because of its impressive kefir probiotic content, water kefir can have a powerful effect on immune function. Probiotics play a central role in regulating the immune response. They could offer protection against viral infections, allergies, and even eczema.
3. Supports Weight Loss:
Many people wonder: Can kefir help you lose weight? Low in calories but loaded with flavor and fizziness, swapping out sodas or other sugar-sweetened beverages for water kefir a few times per week can definitely bring big benefits when it comes to your waistline.
4. Improves Digestion:
Kefir tends to improve digestion and bowel movements. It is said to even improve our metabolism system.
5. Reduces Blood Pressure & Cholesterol: 
Kefir is said to have great properties in curing high blood pressure. Bad cholesterol can also reduce with the continuous use of Kefir. 
HOW DOES IT LOOK & TASTE LIKE?
It has a semi-tart effervescent mild and sweet flavor.
WHAT IS THE BEST TIME TO DRINK KEFIR?
Technically, you can take kefir any time. However, we generally recommend that you take it first thing in the morning because it's an energy booster.