---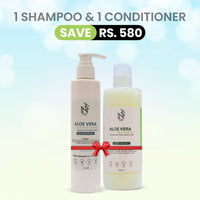 Sale
Total Hair Repair Formula!
This shampoo has been formulated with all the special ingredients that your hair needs. We have made the advanced formulation of our "Aloe Vera Shampoo by including "Keratin, Zinc, Vitamin B-5, and Onion Extract" to help you fight against all hair-related issues. 

WHY OUR SHAMPOO AND CONDITIONER ARE THE BEST?
PRODUCT DETAILS
500 ML Shampoo and 220 ML Conditioner 
WHO CAN USE IT?
Gender - Unisex product
For all hair types.
WHY OUR ALOE VERA SHAMPOO AND CONDITIONER ARE THE BEST?
Reduces hair fall
Prevents dandruff & itchiness
Promotes hair growth
Strengthens & Nourishes hair
Gives extra volume and shine
Deeply Moisturizes and Cleanses
DISCLAIMER
PATCH TEST is advisable before adding a new product to your routine. Apply the product to the neck area and observe for the next 24 hours. Make sure you apply a very small quantity.
If there's no reaction, you can apply the product to your Hair. If the skin is sensitive, continue the test for 7 days. This helps ensure you are not allergic to any ingredient. If irritation occurs, please discontinue the product and consult a dermatologist.
(Tried & Tested on Family)