---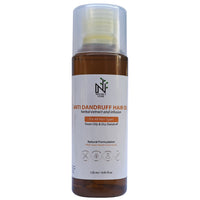 This is a 100% Ayurvedic hair treatment for dandruff.
Formulated to treat dry, flaky to oily drandruff
| | |
| --- | --- |
| Weight | 120 ML |
| Scent | Herbaceous |
| Texture | Medium Thick |
| Shelf Life | 12 Months after opening |
| Manufacturing | This is a locally-manufactured Pakistani product with locally extracted Oils. |
Organic Aloe Vera (Aloe Barbadensis Leaf Juice), Mustard Oil (Sinapis alba oil), Neem Extract (Azadirachta Indica Leaf Extract), Fenugreek.
Let's Understand what our Oil Contains
| | |
| --- | --- |
| INGREDIENTS | EXPLAINATION |
| Mustart Oil | Helps combat dandruff with its antimicrobial properties, promoting a healthier scalp. |
| Organic Aloe vera | Organic Aloe Vera soothes the scalp and reduces dandruff, providing a calming effect. |
| Neem Extract | Neem extract's antibacterial properties help eliminate dandruff and maintain scalp health. |
| Fenugreek | It is an effective against dandruff, soothing the scalp and preventing flakiness. |
Promotes a healthier scalp by addressing dandruff concerns.
Soothes and calms the scalp with the calming effects of organic Aloe Vera.
Utilizes mustard oil's antimicrobial properties to combat dandruff effectively.
Neem extract contributes antibacterial benefits, reducing dandruff and scalp issues.
Fenugreek in the formulation provides relief from flakiness and irritation.
Enhances overall scalp health by combining the strengths of all ingredients.
Addresses itchiness associated with dandruff, promoting a more comfortable scalp.
Utilizes organic Aloe Vera to add a soothing and hydrating element to the formulation.
Balances the scalp's oil production, reducing the likelihood of dandruff recurrence.
Combats dandruff while providing a nourishing and conditioning effect on the hair.
Step 1: Apply a few drops on your scalp and hair strands, massage with your fingers. Keep it for at least 2-3 hours.
Step 2: Wash your hair with our Natural Sulfate free shampoo.
PATCH TEST is advisable before adding a new product to your routine. Apply the product to the neck area and observe for the next 24 hours. Make sure you apply a very small quantity.
If there's no reaction, you can apply the product to your Hair. If the skin is sensitive, continue the test for 7 days. This helps ensure you are not allergic to any ingredient. If irritation occurs, please discontinue the product and consult a dermatologist.
1. Q: What are the benefits of using Anti Dandruff Hair oil for hair?
A: This oil helps to control hair fall and reduces dandruff.
2. Q: How often should I apply Anti Dandruff oil to my hair?
A: You should use it at least 2-3 times a week.
3. Q:What is the best method for using Anti Dandruff oil?
A: Slightly warm the oil and apply it in your hair. Keep it to 2-3 hrs
4. Q: Is Anti Dandruff Hair oil suitable for all hair types?
A:Yes, absolutely. But, people with extremely oily hair scalp should use it once a week only.
5. Q: Does Anti Dandruff hair oil help with dandruff and an itchy scalp?
A: Yes
6. Q: Can Anti Dandruff Hair oil be left overnight in the hair?
A: yes
7. Q: Does Anti dandruff hair oil help in repairing damaged hair?
A: Yes, it deeply hydrates and locks in moisture in your hair strand. You hair looks super healthy.
8. Q: Can Anti dandruff hair oil be mixed with anything else?
A:No