---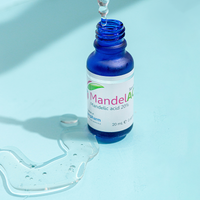 Our bestselling MandelAC serum containing 20% Mandelic Acid is a perfect everyday exfoliant for acne-prone skin.
Clinically Proven.
Backed by Science.
Dermatologically Recommended.
Results in 14 days.
94% saw even skin tone and texture with no scarring.

94% saw reduced post-breakout dark spots.

94% saw reduced hyperpigmentation.

Clinically proven to reduce pimples.

Chemically exfoliates dead skin cells.

PRODUCT DETAILS
1. Weight:
20 ML
Ingredients:
Mandelic Acid
Aloe Vera Gel
Sorbitol
Allantoin
3. Scent:
Fragrance-Free

4. Texture:
 Lightweight.
5. Shelf life

6 Months after opening
Benefits
Treats Acne and Acne Scars
Removes Dead Skin Cells
Reduces Fine Lines and Wrinkles
Improves Skin Texture

Our team makes great effort to micronize and filter all of the active ingredients and extracts for superior efficiency and we also believe that it is important to choose proper carriers to ensure that the active ingredients are absorbed deeply into the skin.



How to Use It?

Initially, MandelAC serum should be used every other night for two hours only, until your skin adjusts to it. After that, increase the frequency to once daily, after cleansing and moisturizing. There are three ways you can apply MandelAC serum: 1. Apply 2-3 drops of the serum directly with the help of a cotton pad, on your whole face. 2. Apply 2-3 drops mixed in with Dermive Oil-Free moisturizer to help with the peeling and flaking of dead skin cells. 3. If you have extra sensitive skin, apply the serum only on targeted areas for a spot correcting approach. Note: 1. Patch test for allergic reactions on the arm or neck prior to using any product on the face. 2. The use of an additional broad-spectrum sunblock of SPF 40 (or higher) during the day is strongly recommended.
Disclaimer
PATCH TEST is advisable before adding a new product to your routine. Apply the product to the neck area and observe for the next 24 hours. Make sure you apply a very small quantity.