---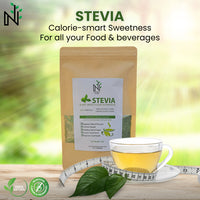 PRODUCT DETAILS
1. Weight:
50 Grams.
2. Ingredients:
This is unprocessed and raw Stevia.
3. Colour:
Green
HOW TO USE 

STEVIA?

You can use stevia  directly as a sugar substitute in various foods:

. Beverages – Fresh Juices, Herbal Teas, Coffee, Chai, Smoothies.
. Dairy products – Yogurt, and Ice-cream
. Baked products – Bread, Cakes, Cookies, or various other desserts.

 
WHY SHOULD YOU GET OUR STEVIA?
Our Stevia is 100% pure and unprocessed. It does not contain any additives.
1. Regulates Blood Pressure.
2. Improves Bone and Oral Health.
3. Helps to reduce weight.
4. Controls Blood Sugar Level.