---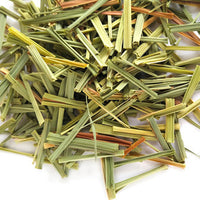 50 Grams Pack
Lemongrass tea has innumerable benefits, a few of them are mentioned below;
1. Relieving anxiety
Many people find sipping hot tea to be relaxing, but lemongrass tea may offer further anxiety-reducing properties.
2. Lowering cholesterol
The study notes that the reaction is dose-dependent. This means that larger quantities of lemongrass might lower cholesterol further.

3. Preventing infection
For example, the herb seems to reduce the incidence of thrush, a fungal infection that commonly affects people with weakened immune systems, such as those with HIV.

4. Boosting oral health
In many countries where the lemongrass plant is native to the area, people will take the lemongrass stalks and chew on them as a way to improve dental health and keep the mouth feeling clean.
5. Relieving pain
This means that drinking lemongrass tea could potentially help to prevent a person from sensing pain.
6. Boosting red blood cell levels
Drinking lemongrass tea boosts the formation of red blood cells.
7. Relieving bloating
Drinking lemongrass tea can have diuretic effects, which means that it stimulates the kidneys to release more urine than usual.
This diuretic effect on the body can be beneficial in cases where water retention leads to bloating. This is a common symptom of premenstrual syndrome (PMS).