---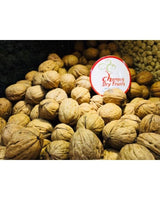 Walnuts are the oldest known tree food, dating back to 10,000 BC. They were initially consumed by the ancient Greeks and Romans, who considered them a symbol of intellectuality because their shape resembles that of the human brain.
Why our Dry Fruits are the BEST?
Texture: Crunchy & Crispy
Nutritional Value:
Walnuts are a highly nutritious food that are rich in a variety of nutrients, including:
Protein: Walnuts contain about 4.3 grams of protein per ounce, making them a good source of plant-based protein.

Healthy Fats: Walnuts are high in heart-healthy unsaturated fats, including both polyunsaturated and monounsaturated fats. They are also a good source of omega-3 fatty acids, which have been linked to numerous health benefits.

Fiber: Walnuts are a good source of dietary fiber, with about 2 grams per ounce.

Vitamins and Minerals: Walnuts are a good source of several vitamins and minerals, including vitamin E, folate, phosphorus, magnesium, and copper.

Antioxidants: Walnuts contain several antioxidants, including phenolic acids, tannins, and flavonoids, which may help protect against oxidative stress and inflammation.
Overall, walnuts are a highly nutritious food that can be a healthy addition to a balanced diet.
Benefits of eating Walnuts:
Eating walnuts can offer numerous health benefits. Here are some of the main benefits associated with consuming walnuts:
Heart health: Walnuts are rich in heart-healthy fats, including polyunsaturated and monounsaturated fats, which can help lower LDL (bad) cholesterol levels and reduce the risk of heart disease.

Brain health: Walnuts are a good source of omega-3 fatty acids, which are important for brain health and may help improve cognitive function.

Anti-inflammatory properties: Walnuts contain several antioxidants and anti-inflammatory compounds, which may help reduce inflammation in the body and lower the risk of chronic diseases.

Weight management: Despite their high calorie and fat content, studies have shown that consuming walnuts may help with weight management by increasing feelings of fullness and reducing overall calorie intake.

Improved gut health: Walnuts contain fiber and prebiotics, which can help support the growth of beneficial bacteria in the gut and improve digestive health.

Reduced risk of certain cancers: Some studies have found that consuming walnuts may be associated with a reduced risk of certain types of cancer, such as breast and prostate cancer.
Packing and Storage:
We deliver our dry fruits in sealed pouch packs. If you want to keep dry fruits in some other packaging material or jars then make sure you follow these instructions:
Airtight packaging: The packaging should be airtight to prevent air and moisture from entering and causing spoilage. This can be achieved using airtight containers or resealable bags.

Opaque packaging: Dry fruits should be stored in opaque packaging to protect them from light, which can cause oxidation and lead to rancidity.

Temperature control: Dry fruits should be stored in a cool, dry place to prevent the growth of mold and bacteria. Temperature-controlled storage is ideal for maintaining freshness.
Disclaimer:
While we take every precaution to ensure that our dry fruit items are of the highest quality and meet strict standards, please note that they may contain traces of allergens such as peanuts, other nuts, and seeds. Additionally, as our products are 100% natural, there may be slight variations in color, texture, and taste.
Finally, please store the dry fruit items in a cool, dry place to ensure their freshness and quality.
How can you consume Walnuts?
Snack on raw or roasted walnuts as a healthy and satisfying snack.

Add walnuts to your morning oatmeal or yogurt for added texture and flavor.

Incorporate walnuts into baked goods such as muffins, bread, and cakes.

Use walnuts as a topping for salads or roasted vegetables.

Make a homemade pesto or sauce with walnuts as the base.

Add walnuts to smoothies for a nutty flavor and extra protein.

Make a walnut butter or use it as a substitute for peanut butter.

Use chopped walnuts as a crunchy coating for chicken or fish.

Mix chopped walnuts with dried fruit and dark chocolate for a healthy and delicious trail mix.