---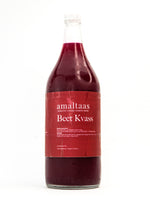 1000 ML Bottle
Beet kvass is a fermented drink made by culturing beetroots. Traditionally, beet kvass has been used to support immune function, cleanse the blood, combat fatigue and chemical sensitivities, allergies, and digestive problems, and is especially good for those suffering from constipation or sluggish liver. 
As a fermented food, beet kvass benefits gut health and the digestive system. Culturing the beets in brine allows beneficial bacteria to proliferate just as they do in other fermented foods and drinks like water kefir, milk kefir, and Kombucha.
Ingredients: Fresh Beetroot, Ginger, and Whey. 
This is a Ready to drink bottle. Start with half a cup twice a day.