---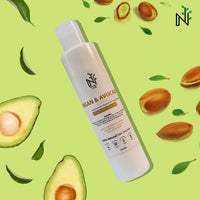 Sale
Hair Treatment Conditioner

Our 100% naturally formulated Hair Conditioner is made with Organic Shea Butter, Chamomile Hydrosol, Argan Oil, Avocado Oil, and Flaxseed Oil.

WHY OUR CONDITIONER IS THE BEST?
PRODUCT DETAILS
1. Weight:
220 ML

2. Key Ingredients:
Chamomile Hydrosol (ANTHEMIS NOBILIS Flower Water), Unrefined Shea Butter (Butyrospermum Parkii), Coconut Oil (Cocos Nucifera), Argan Oil (Argania spinosa kernel oil), Avocado Oil (Persea Gratissima), Flaxseed Oil (Linum Usitatissimum Seed Oil), BTMS-50, Cetearyl Alcohol.
3. Scent:
Unscented

4. Texture:
 Thick 
5. Shelf life
12 Months
WHO CAN USE IT?
Age - For 15+
Gender - Unisex product
For all hair types.
WHY OUR CONDITIONER IS THE BEST?
Nourishment and Hydration: Our Hair conditioner provides essential moisture and hydration to the hair, replenishing its natural oils and preventing dryness. This helps to keep the hair soft, smooth, and manageable.

Improved Hair Health: Regular use of our hair conditioner can significantly improve the overall health of your hair. It helps to repair the damage, reduce split ends, and strengthen the hair shaft, resulting in stronger, healthier-looking hair.

Detangling and Manageability: Our Conditioner has detangling properties that make combing and styling easier. They smooth out the hair cuticles, reducing frizz and tangles, and making the hair more manageable.

Protection from Environmental Damage: Acts as a protective barrier on the hair strands, shielding them from harmful environmental factors such as pollution, UV rays, and heat-styling tools. This protection helps to minimize damage and maintain the hair's natural luster.

Enhanced Shine and Smoothness: Our Hair Conditioning treatment coats the hair with a thin layer that reflects light, giving your hair a healthy shine and a smooth, polished appearance. It adds a touch of silkiness to the hair, making it feel and look more luxurious.
HOW TO USE IT?
Step 1:

 

Gently massage

 Aloe Vera Shampoo

 on the scalp with fingertips, to work into a lather.
Step 2:

 

Rinse thoroughly. Our Shampoo easily removes oil.
Step 3: 

 

Apply Conditioner thoroughly covering all your hair strands. Keep it for 2-3 minutes and rinse off. 
DISCLAIMER
PATCH TEST is advisable before adding a new product to your routine. Apply the product to the scalp closer to the neck area and observe for the next 24 hours. Make sure you apply a very small quantity.
If there's no reaction, you can apply the product to your Hair. If the skin is sensitive, continue the test for 7 days. This helps ensure you are not allergic to any ingredient. If irritation occurs, please discontinue the product and consult a dermatologist.
(Tried & Tested on Family)