---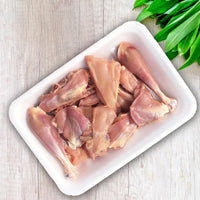 *Average 1.25 Live Weight.
Net Weight (600-700 Grams)
12 pieces
Besides the horrible treatment and low-quality chicken production at commercial farms, a severely hazardous virus such as Salmonella has been found. There are so many facts published about commercial chicken, which prove it is a high risk to our health.
Free-range chicken is the natural and safest solution to consume this regular protein food.
We have tailored this modern cage-free farming through continuous research & development to produce chicken meat that truthfully can be said naturally grown.
Naturally, we are delivering a healthy protein choice, which has been naturally grown up in fresh air, and sunshine, and nourished with 100% chemical-free feed only comprises of mixed grains.
Make sure the chicken meat, you are purchasing for the family has been pragmatically raised under free-range conditions.
Features

• 100% natural feed.
• Risk-free from Salmonella.
• Preservative-free packaging.
• Chickens spend more than 50% of their lives in the open air.
• Egg-laying hens also live in the same comfortable environment.

Benefits

• A healthy diet and other privileged farming standards increase protein content in the chicken.
• Free-Range Chicken (Brand Name) is an easily accessible natural form of protein, which is vital, especially for growing kids and pregnant mothers.
• There are no adverse effects on cholesterol and hormone levels.
• More juicy texture and delicious taste.