---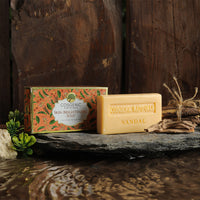 PRODUCT DETAILS
1. Weight:
100 Grams.
2. Ingredients:
Natural Palm Soap Base, Natural Liquorice Extract, Natural Sandal Extract, Natural Sandal Powder, Natural Colors, Yogurt Extract
3. Scent:
Sandal

4. Texture:
 Creamy, Foamy, and Bubbly
WHO CAN USE IT?
Skin Type -
 All Skin Types
Age -

 

For 15+
Gender -

 

Unisex product
HOW TO USE IT?
Wet your hands and gently rub the soap in your palms to form a lather. Now apply it to your skin and enjoy the real goodness of our 100% Natural soap.
WHY SHOULD YOU USE IT?
Instantly Brightens the skin tone
Removes Dead Skin, Scars, and blemishes
Enhances Natural Glow
DISCLAIMER
PATCH TEST is advisable before adding a new product to your routine. Apply the product to your inner elbow/jawline and observe for the next 24 hours. If there's no reaction, you can apply the product to your face. If the skin is sensitive, continue the test for 7 days. This helps ensure you are not allergic to any ingredient. If irritation occurs, please discontinue the product and consult a dermatologist.
(Tried & Tested on Family)