---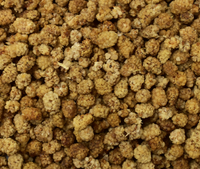 A product of Quetta (Chaman).

Fresh Crop
Sorted
Sorted nuts
100% Premium Quality of dry fruit
Dried Mulberry Health benefits:
Mulberries are colorful berries that are eaten both fresh and dried.
They're a good source of iron, vitamin C, and several plant compounds and have been linked to lower cholesterol, blood sugar, and cancer risk.
These berries have also been used in Chinese herbal medicine for thousands of years to treat various illnesses, though evidence to support their effectiveness is weak.
Mulberries have a sweet and delicious taste, are packed with nutrients, and have a range of potential health benefits — which are all important for building a healthy diet.