---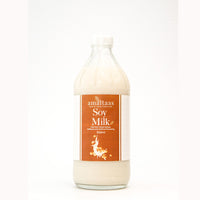 Quantity: 500 ML
The protein in soy milk is healthy, plant-based, and can help support healthy muscles and organs. Soy milk is rich in omega-3 fatty acids, which are "healthy" fats that your body cannot form on its own. When comparing all plant milk, we can say, broadly, that soy milk is the most nutritionally similar to a low-fat cow's milk.
Benefits of Soy Milk:
Rich in Omega-3 fatty acid, thus good for brain health.

Improves heart health.
Lowers cholesterol, improves blood lipid profile.
Lactose-free
Highly rich in protein and calcium.

May Relieve Postmenopausal Issues.

May Provide Relief from Osteoporosis.