---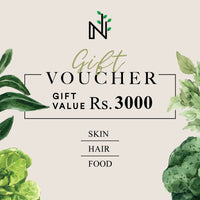 the best gift is the gift of choice
Give your loved ones a gift card today, let them choose from over 1,000 Organic and Natural Food and Personal Care items made with love and care.
How does it work?
1. All gift cards are prepaid.
2. After placing the order, please transfer the gift card amount into the account details mentioned below.
3. Share the payment proof (screenshot or transfer slip) on our WhatsApp number 0321-8006808 for order confirmation.
4. Upon order confirmation, a digital GiftCard will be emailed to you.
5. You can send that GiftCard to your loved ones. :)
Account Details:
Sarah Arif
Standard Chartered Bank
Account Number: 01704106001
PK67SCBL0000001704106001

To get more information, feel free to call or WhatsApp us. Have fun shopping.