---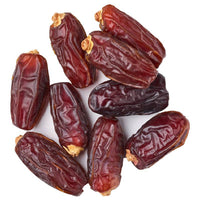 Mabroom date is often referred to as the "King of Dates" due to their premium quality.
Why our Dry Fruits are the BEST?
Texture: Chewy & Firm
Nutritional Value:
Mabroom dates are a nutrient-dense fruit that are packed with a variety of essential vitamins and minerals. Here are some of the key nutritional facts about Mabroom dates per 100 grams serving:
Calories: 277
Carbohydrates: 75 grams
Fiber: 7 grams
Protein: 2 grams
Fat: 0.4 grams
Potassium: 658 mg
Magnesium: 54 mg
Iron: 1.4 mg
Calcium: 39 mg
Vitamin A: 149 IU
Vitamin K: 2.7 mcg
Benefits of eating Mabroom Dates:
Good source of energy: Mabroom dates are high in carbohydrates, which can provide a quick source of energy to the body.

Rich in fiber: The fiber content in Mabroom dates can help promote regularity of bowel movements, reduce constipation, and promote feelings of fullness, which can aid in weight management.

High in potassium: Mabroom dates are a rich source of potassium, which is an essential mineral that can help regulate blood pressure, support heart health, and promote proper muscle and nerve function.

May improve digestion: The fiber content in Mabroom dates can help promote the growth of beneficial gut bacteria, which can aid in digestion and overall gut health.

May reduce the risk of chronic diseases: Mabroom dates are rich in antioxidants, which can help protect against oxidative damage to the body and reduce the risk of chronic diseases such as heart disease, cancer, and diabetes.

May improve bone health: Mabroom dates contain several minerals, including calcium and magnesium, that are important for maintaining healthy bones.
Disclaimer:
While we take every precaution to ensure that our dry fruit items are of the highest quality and meet strict standards, please note that they may contain traces of allergens such as peanuts, other nuts, and seeds. Additionally, as our products are 100% natural, there may be slight variations in color, texture, and taste.
Finally, please store the dry fruit items in a cool, dry place to ensure their freshness and quality.
How can you consume Mabroom Dates?
Mabroom dates are a versatile and delicious ingredient that can be incorporated into a variety of dishes to add flavor and nutrition. Here are some ways to add Mabroom dates to your daily diet:
As a snack: Mabroom dates can be eaten on their own as a sweet and satisfying snack. Simply remove the pits and enjoy them as is.

In smoothies: Add Mabroom dates to your smoothies for a natural sweetener and to boost the nutritional value.

In baked goods: Mabroom dates can be chopped and added to baked goods such as muffins, bread, and granola bars for natural sweetness and texture.

In salads: Add chopped Mabroom dates to your favorite salads for a sweet and chewy texture.

In savory dishes: Mabroom dates can be added to savory dishes such as stews and tagines to add sweetness and depth of flavor.

With cheese: Mabroom dates can be paired with cheese for a delicious and elegant appetizer or snack.