---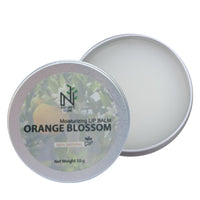 100% Organic and Natural (Sulfate FREE - Paraben Free- Silicon Free)
Ingredients:
Beeswax (Cera Alba), Organic Coconut Oil, Organic and raw Shea butter (Butyrospermum Parkii), Organic Apricot Oil (Prunus Amygdalus Dulcis), Castor Oil, Glycerin, Orange Essential Oil and Vitamin E (Tocopheryl Acetate),
Quantity: 10 Grams
Here are reasons as to why you should choose a lip balm:
Moisture and Hydration: Lip balms contain moisturizing ingredients such as beeswax, shea butter, and natural oils that help keep your lips hydrated, preventing them from becoming dry and chapped.

Prevents Chapped Lips: Lip balm forms a protective barrier on your lips, shielding them from harsh weather conditions like cold winds and dry air, preventing chapping and cracking.

Soothes Irritation: If your lips are already chapped or irritated, lip balm can provide immediate relief by soothing the discomfort and promoting healing.

Sun Protection: Some lip balms come with SPF (Sun Protection Factor) to shield your lips from harmful UV rays, reducing the risk of sunburn and preventing long-term damage.

Softens Lips: Regular use of lip balm can make your lips softer and smoother, enhancing their texture and appearance.

Promotes Healing: Lip balms often contain healing ingredients like vitamin E and aloe vera, which aid in the recovery of damaged lips and promote faster healing of cuts or minor injuries.

Prevents Infections: Cracked lips can be more susceptible to infections. Lip balm creates a barrier that helps prevent bacteria and other pathogens from entering the cracks, reducing the risk of infections.

Improves Lip Health: By keeping your lips moisturized and protected, lip balm contributes to overall lip health, making them look and feel better.

Enhances Lip Appearance: Some lip balms come with a hint of color or gloss, enhancing the natural color of your lips and adding a subtle shine, which can improve your overall appearance.

Convenient and Portable: Lip balm is compact and easy to carry, allowing you to moisturize your lips anytime, anywhere, ensuring they stay healthy and comfortable throughout the day.