---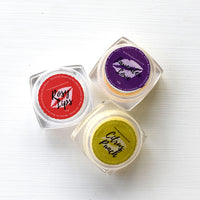 Sale
10 g
100% Natural and Chemical-FREE
There are 3 Flavours available:
- Lavender Love (Lavender)
- Citrus Punch (Bergamot & Orange)
- Rosy Lips (Rose & Geranium)
These Lip balms are made with pure Hunza Almond oil to keep your lips hydrated and healthy. Vitamin E drops in the balm will boost circulation and may help generate new skin cells, making your lips softer. Pure Lavender essential oil has properties to soothe your lips. 
Benefits:
Here are reasons as to why you should choose a lip balm:
1. Your skin heals faster